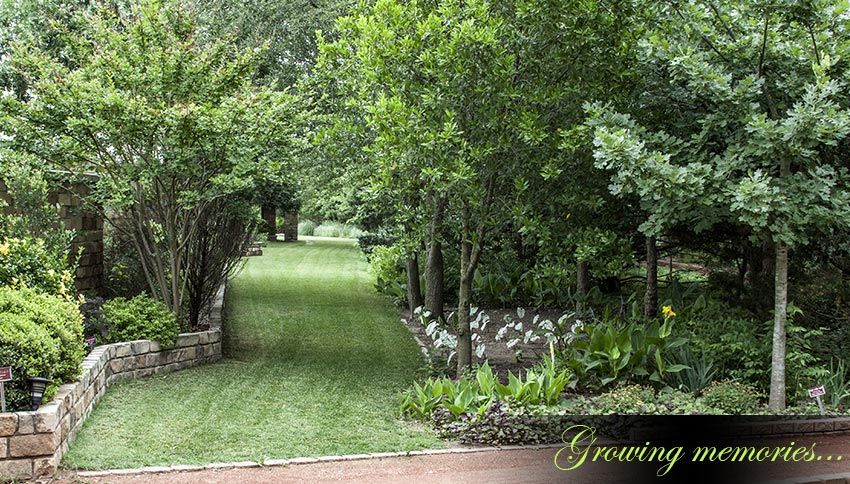 Through our Celebrations, Memorials & Tributes Program you may honor a loved one with a tribute tree or bench in their name. Your tribute becomes a living part of the gardens and supports the maintenance and care of the Clark Gardens grounds.
$1,000-Tree Planting
Contribute to our tree planting fund which provides planting and maintenance for trees throughout Clark Gardens. Notification of your generous tribute is sent to a designated person. Trees are marked for family and friends to identify the life that has been created in honor of a special someone or event. With this contribution the honored person will be listed in our monthly newsletter. It is our primary goal to ensure the quality and to maintain the long-term viability of your dedicated tree for a minimum of five years. However, Acts of Nature and other circumstances may cause damage to the tree requiring its removal. If damage is made to the dedicated tree within the five years Clark Gardens will replace the tree at no cost.
$2,000- Honorary Bench
Provide a place for respite and reflection. Benches will be placed strategically throughout the West Garden. An engraved label with a person's name is affixed to the bench. Clark Gardens Director assigns the appropriate location. With this contribution the honored person will be listed in our monthly newsletter. Honorary benches will remain in place until such time that they are unsafe or aesthetically unacceptable for up to 10 years.
Additional Memorial & Tribute Opportunities
Additional naming opportunities start at $5,000.
Naming of an entire area of the garden starts at $10,000
Sculpture opportunities available
To learn more about our Memorials & Tributes Program please contact Director, Carol Clark Montgomery via email or call 940-682-4856.
Of concern to all! - The Value of a Tree
"A tree is worth $193,250 according to Professor T.M. Das of the University of Calcutta. A tree living for 50 years will generate $31,250 worth of oxygen, provide $62,000 worth of air pollution control, control soil erosion andincrease soil fertility to the tune of $31,250. This figuredoes not include the value of fruits, lumber or beauty derived from trees. Just another sensible reason to take care of our forests."
From: Update Forestry Michigan State University